Professional Pest Management For Jonesboro, GA Properties
Some cities are made to be famous, and some are just lucky. Others, like Jonesboro, Georgia, are created to be famous. This popular town was a hot spot of activity during the American Civil War and was the location of several decisive battles between the Northern and Southern armies. The Yankee army's win during the Battle of Jonesborough, GA would be a huge victory that elected President Abraham Lincoln, winning the war less than a year later. Today, Jonesboro is an intriguing place full of historical sights, sounds, and secrets. However, not much has changed in this small southern town, including pest control. As time goes on, more and more local Jonesboro residents are realizing the importance of professional pest control for their properties.
The team at Ennis Exterminating understands the threats posed by Jonesboro pests and has been happy to be a part of the solution for more than 20 years. If there is a problem to be solved or a pest to eliminate, Ennis Exterminating is the company for you! Get your Jonesboro property under our protection by calling, clicking, or requesting a free estimate today.
Residential Pest Control In Jonesboro, GA
Ennis Exterminating is a proud provider of residential pest control for the homeowners of Jonesboro, GA. Every residential pest control plan from Ennis Exterminating comes with:
Guaranteed Pest services
Same-Day Emergency Services
Free Quotes Either In Person Or Over The Phone \
Why wait for the best in local pest control? Ennis Exterminating is standing by to provide you with a complimentary quote as soon as possible.
Jonesboro, Georgia's Secret To Effective Mice Control
Both rats and mice are common sights around Jonesboro properties, especially during cooler months of the year. However, mice are arguably the worst species of the two. While rats are often large, aggressive, and easy to spot, mice are much more conniving. These creatures spend their time skulking from place to place, contaminating food items, spoiling ingredients, and rubbing pathogens across surfaces.
The best way to effectively control mice around your Jonesboro property is to keep these pests from investigating in the first place. To do this, follow these mouse prevention steps:
Look for ways to seal up cracks or gaps around the home. Anything larger than a quarter (1 inch in diameter) should be properly caulked or screened.
Store all food items and ingredients inside containers with airtight lids. Do not allow any spills, streaks, or crumbs to remain on your counters for very long.
Garbage should be placed in plastic liners and stored in trashcans with a lid. If possible, wash out the inside of your trashcans at least once a month.
If mice are still threatening your Jonesboro home, there is still hope. Ennis Exterminating is the best-kept secret to total rodent control on residential properties. Book an inspection with us online today.
Termites & The Dangers They Bring To Jonesboro Homes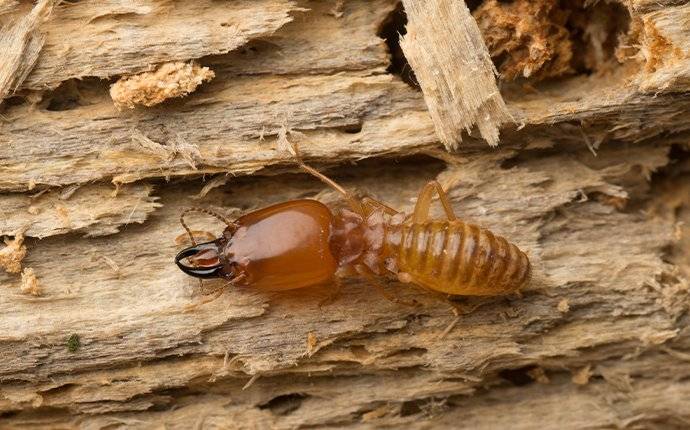 Causing over 5 billion dollars worth of property damage each year, termites bring an enormous amount of danger to Jonesboro homes. Not only are they difficult to notice and almost impossible to locate, but they can be working undercover for months without detection.
Termites are quite possibly the worst and most concerning wood-eating pests around. If you think or know that they could be near your Jonesboro property, you should keep these facts in mind:
Termites do not require sleep, rest, or breaks. They can chew through the wood for as long as their life cycle allows.
The majority of termite damage is not covered by the average homeowner's insurance policy. Instead, all repairs and remodels will have to be covered out of pocket.
The average size of a modern termite colony is around 60,000 members. However, some get much larger, numbering in the millions.
Termite control is a task that should never be attempted on your own. If you are concerned about termite activity around your Jonesboro home, call Ennis Exterminating for an inspection right away.
Commercial Pest Control In Jonesboro, GA
Pest control is one of the most important investments for your Jonesboro business. By creating a semipermeable barrier around your lawn, building, or essential areas, you will be continuously protected against some of the worst effects of a pest presence. At Ennis Exterminating, we take pride in the way we customize commercial pest control plans for Jonesboro business owners. We take our treatments in three steps:
We conduct a 58-point pest assessment that assesses your business for warning signs.
We treat it as necessary and provide a product barrier that is guaranteed to keep pests out.
We promise that your pest problems have come to an end – or we will retreat for free!
Find the pest protection you've been looking for at Ennis Exterminating. Book a commercial pest control inspection with a qualified team member today.
Schedule Your Pest Assessment
Complete the for below to schedule your inspection with Ennis Exterminating